Walmart Stores, the biggest bricks and mortar retailer in the world, has declared that in February 2018 it will change its name to simply 'Walmart'. Reflecting the increasing influence of online, the name change isn't just cosmetic – Walmart has had an intense push on innovation and e-commerce in the Online to Offline (O2O) sector.
In the last year the retailer increased its online assortment from 20 million to 60 million items and its US e-commerce department has seen a leap in Gross Merchandise Value of 67%. This includes recent acquisitions but still, it's significant nonetheless.
Walmart is a pioneer of new technology to further harness its huge footfall and continue its upward trajectory. So, what are their Associates currently focussing on and what can UK retailers learn from them?
New distribution models
Walmart continues to look for ways to get orders in customers' hands as quickly as possible and lessen the last mile of delivery, through distribution innovations.
Click and Collect is now commonplace in the grocery sector and Walmart is in on the trend, offering the service in 1,100 locations with another 1,000 planned in 2018. However, what is setting the retailer apart is the touch of theater they are adding to order collection, in a series of pilots being run across the US.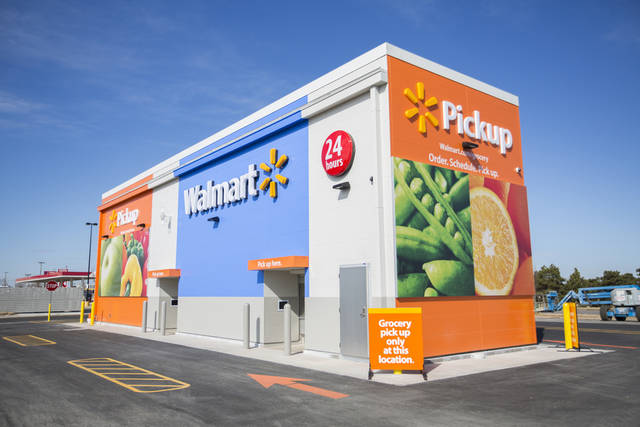 In the outer parking lot of a store in Oklahoma City, shoppers are greeted by a brightly colored, 24 meter-long automated collection kiosk; essentially a supersized vending machine. Online orders are picked and stored inside the enormous refrigerated kiosk and the customer punches in a code to retrieve their order. The kiosk is open 24 hours a day, 7 days a week, even when the store is closed.
Similar innovation is seen inside other trial stores, where gigantic next-generation pick-up towers are sited at entrances for general merchandise collection. Online shoppers scan their receipt and within a minute their order is rolling out of the tower and into their hands.
These towers are fast and efficient and they bring customers into the store to combine collection with browsing.
As part of a broader effort to digitise Walmart in-store fulfillment experience, they also give a cool, tech-forward atmosphere and their sheer bulk and presence acts to encourage new customers to try the service.
Speed of fulfillment is key in today's marketplace and, in line with other retailers, Walmart is rolling out same-day delivery. However, once again they are innovating further to give exceptional customer service. In the fiercely competitive retail landscape of China, a partnership deal with the JD Daojia delivery platform means that more than 80 Walmart stores now run a two-hour delivery operation, available to customers within a 3km radius.
And in yet another pilot Walmart is paying store employees to deliver packages to customers' homes.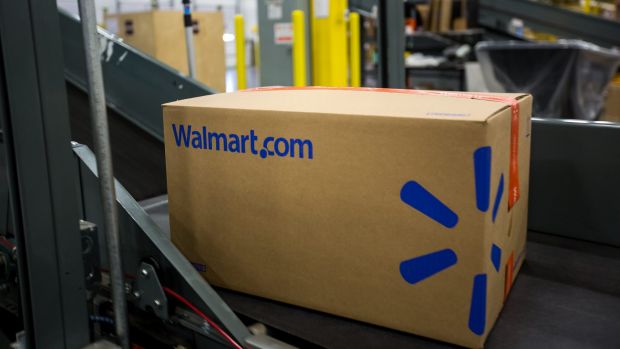 How it works: trucks which move orders to stores also start to bring home delivery orders to a store close to their final destination, and staff sign up to deliver them to the customer's house as part of their usual commute to and from work.
Staff can set their preferences on the software Walmart has developed for this initiative by choosing elements such as convenient delivery days, the number of parcels and their size. After work they collect their parcels, enter the delivery address into the GPS on their phone, and drive off.
"Many orders are being delivered the next day, and associates love having the option to earn more cash while doing something that's already part of their daily routine," Marc Lore, President and CEO, Walmart U.S. eCommerce, said in a blog post. "An unexpected benefit is they're finding quicker routes home thanks to the GPS built into our proprietary app."
In-store tech
There are many examples of robots performing repeatable, programmable tasks on the shop floor or the warehouse, increasing efficiency and freeing up staff to offer a better customer service. Walmart has developed their own version – a two-foot high self-scanning robot which alerts staff to out of stocks. On average 50% more productive and a full three times faster than humans, it's likely that this will be rolled out to all stores going forward and it will be interesting to see the impact on jobs.
Another example of Online to Offline is Walmart's interpretation of the endless aisle concept. This is an enormous opportunity that gives retailers the flexibility to sell items that aren't available in store, either because they are out of stock or because the individual stores might not stock certain SKUs locally.
Walmart is testing this in its Houston store, where it has installed interactive screens showing a selection of online-only items. Customers can order these products, pay for them with the rest of their basket and come back to collect them two days later. It's a neat way of increasing customer convenience whilst boosting basket size and encouraging customers to return to store.
New direction?
Whilst innovative, these initiatives focus on more effectively retailing the current range of Walmart goods. However there has been a new development which appears to be taking the tried and tested Walmart concept in an entirely new direction.
Lord and Taylor, the venerable chain of upmarket department stores, has signed an agreement to launch on the retailer's website, which is known across the world for its low prices and value proposition. Unusual partners perhaps? The analytics tell a different story.
"We see customers on our site searching for higher-end items" said Denise Incandela, Head of Fashion, Walmart U.S. e-commerce. She goes on to explain that they are planning to expand online into a more specialised and premium experience, starting with fashion.
In conclusion
If Walmart were a country, its GDP would rank it as 28th in the world, in between Norway and Austria. It's over half a century old and despite its enormity and history it's demonstrably not resting on its laurels. Quite the opposite in fact; it's at the absolute forefront of innovation, making customer experience faster and easier – and injecting a little bit of theater too.
What remains to be seen is how other retailers will respond to the market leader potentially pulling further away from the pack.
Bryony Graham
Further Reading
Walmart increases online assortment by 40 million SKUs in one year
Walmart sees ecommerce leap by 67%
Walmart store staff delivering packages