Each year, the National Retail Federation (NRF) surveys retail loss prevention and security executives about risks, threats and vulnerabilities to their company and the retail industry as a whole. This year's NRF Retail Security Survey[i] (NRSS) found that the average shrink rate in 2021 was 1.44%, which equates to an almost $100 billion problem in the US alone. This article looks at the key drivers of inventory shrinkage as well as shifts in loss prevention technology and other priorities for retailers.
What is inventory shrinkage & how big is the problem?
Shrinkage is an accounting term that reports the difference between the inventory recorded in business accounts and the actual, physical inventory in possession of the retailer.
Inventory shrinkage, when taken as a percentage of total US retail sales in 2021, accounted for $94.5 billion in losses last year, up from $90.8 billion in 2020, according to the 2022 National Retail Security Survey released by the National Retail Federation.
More surprisingly, the shrinkage impact on the industry hasn't changed for 10 years[ii] – averaging at about 1.5% – despite an explosion of data and the development of specific technologies to manage orders and supply chains.
What are the key drivers?
While retail shrinkage encompasses many types of loss – including shoplifting/theft, returns fraud, employee dishonesty, administrative errors, vendor fraud and simple human error – it is primarily driven by three main areas:
External theft (37%), including theft attributed to organised retail crime (ORC)
Employee/internal theft (28.5%)
Process/control failures (25.7%)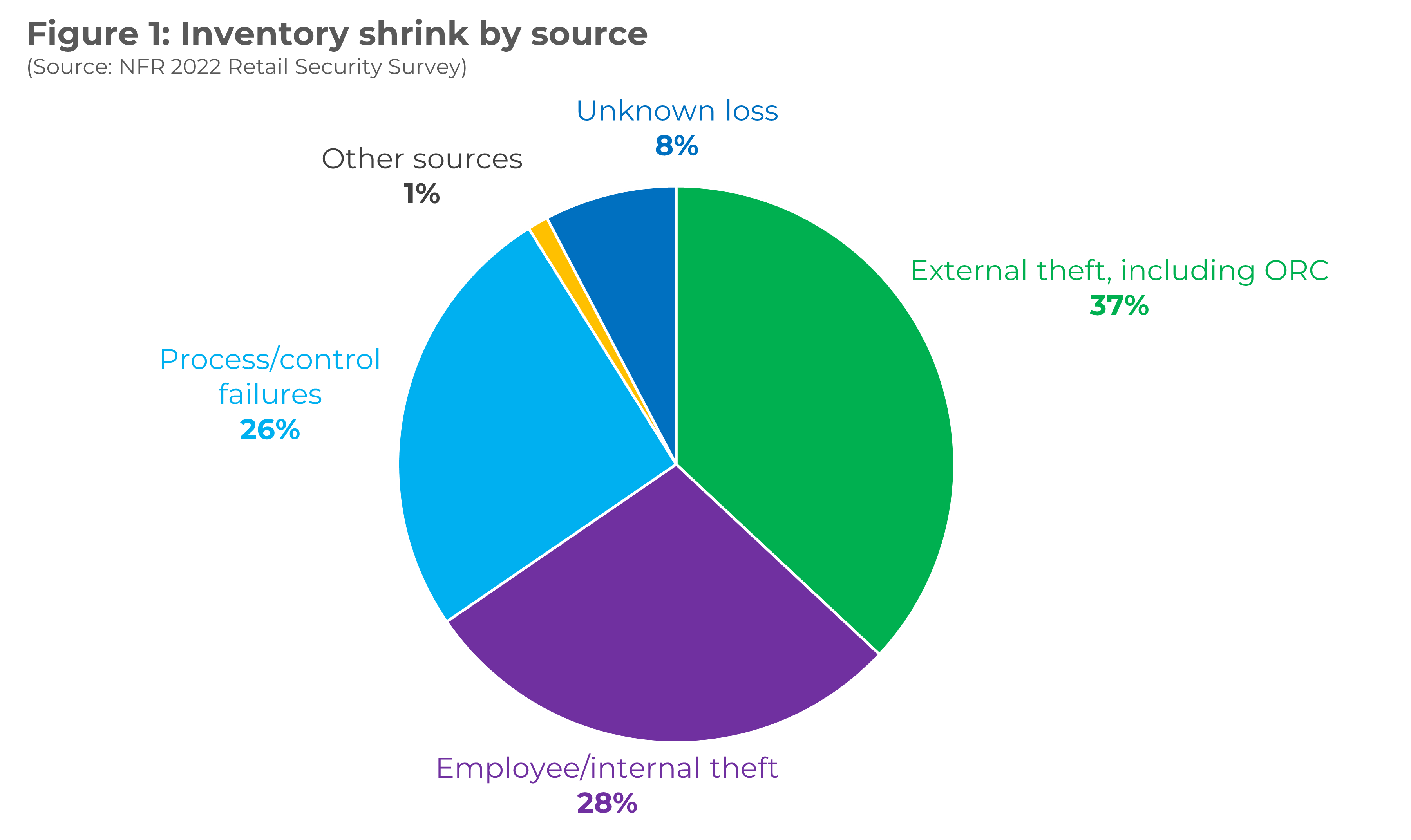 Covid-19 introduced several challenges for retailers, including supply chain disruptions. These disruptions led to significant congestion at key points in the supply chain, forcing cargo to sit and to put it at risk. Retailers reported the highest thefts en route from distribution centres to stores, but this was followed first by cargo theft when shipments arrive at stores and then cargo theft from manufacturers to distribution centres (DCs).
Why are some retailers still not efficient in their fight against shrinkage?
They lack the data required to identify incidents as they occur
They don't have the reporting tools needed to spot exceptions
They rely on less frequent inventory audits to identify gaps rather than ongoing inventory management in real-time
They don't have a holistic approach towards shrinkage control, for example the store teams concentrate on in-store shrinkage and the supply chain looks at stock loss separately
They have no unified shrinkage classification across the business
Lack of integration between systems – therefore a misalignment between orders and receipts
Issues in the overall supply chain – for example common incidents of suppliers delivering to the wrong store or DC leading to discrepancies emerging when reconciling Pos, deliveries and invoices
The process has evolved and is managed in pockets, it is not fully designed or driven from the top down
The cause and effect of shrinkage is not always easy to trace across the company's operations. It requires a comprehensive approach, driven by a single function.
We recommend 3 steps to ensure success.
1 – OWNERSHIP: single C-level ownership shrinkage accountable for end-to-end control & monitoring capability
Typically, the responsibility for inventory shrinkage would be blurred across several business functions. This can be improved with the introduction of a 'Loss Prevention Team' – either a dedicated team with direct reporting line into a c-level executive (often via internal audit/finance or supply chain); or a specific role coordinating dedicated resources within each function – operations, logistics, finance and internal control.
A Loss Prevention Team's responsibilities include:
Design processes, determine policies and establish KPIs
Execute control across the supply chain
Analyse the root-cause of shrinkage
Co-ordinate shrinkage reduction initiatives across functions
Provide regular reporting
This must be linked to the inventory accounting function.
2 – TRANSPARENCY: define a single classification of shrinkage across the company, unified metrics, monitoring and reporting standards
Your shrinkage control and monitoring system should provide clear identification of problem origin and cause – to establish the appropriate course of action and timely response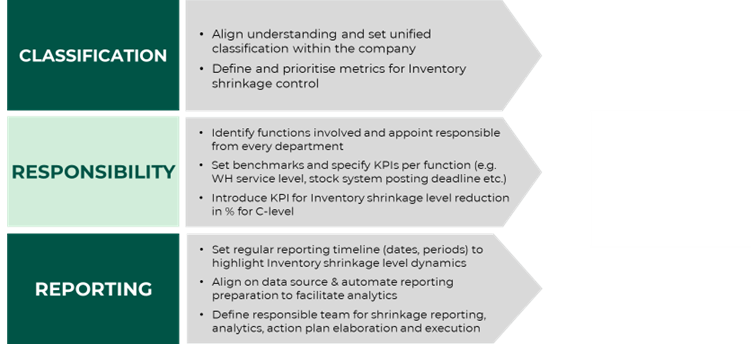 3 – OPERATIONAL EXCELLENCE: reduce physical and virtual shrinkage by optimising your operational processes and systems
Looking back at Figure 1 you will see that a quarter of inventory shrinkage can be attributed to process/control failures. Risk factors for inventory shrinkage are distributed across different levels – from manufacturers to warehouse, to transportation and systems, and in store. Which is why is it essential to evaluate your operational efficiency from end-to-end to highlight every issue and create an action plan.
Here is an example: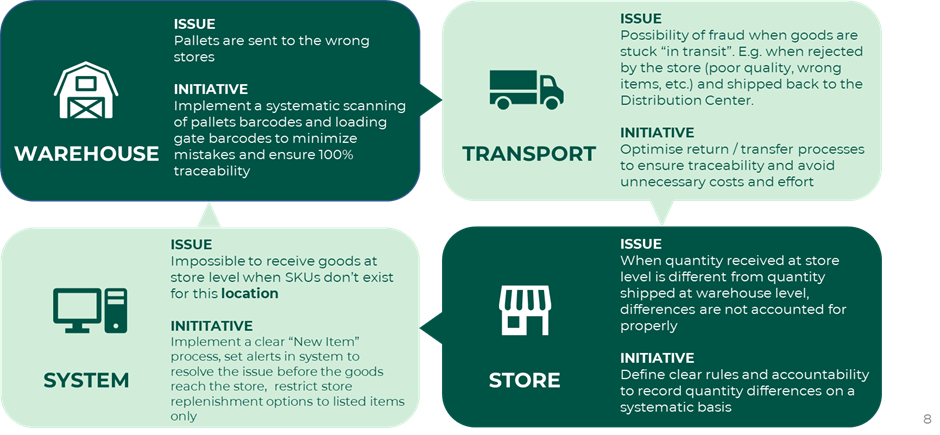 In-depth operational process analysis can help uncover both quick wins and the long-term improvements needed. This provides a basis for the introduction of a comprehensive structure to control shrinkage.
According to the NRF survey, retailers are boosting their budgets and prioritising new resources to safeguard their customers, employees and operations, with nearly half (44.5%) indicating loss prevention as an area of investment. More than half (60.3%) are increasing their technology budget and 52.4% are increasing their capital and equipment budget.
As retail risk changes, retailers are turning to new technologies to mitigate those risks. The great percentage of respondents to the survey reported they were implementing or planning to implement:
RFID tagging systems
AI-based point of sale / self-checkout video analytics
License plate recognition
Self-service locking cases or lockers
For example, Burberry uses RFID to identify products using radio signals with tags embedded in the swing ticket allowing them to track items through the supply chain until final sale. And if you've gone through a self-checkout store recently you may well have seen your own face smiling back at you – reminding you that you're being monitored.
Our approach for process optimisation
CMG can help improve visibility on inventory shrinkage components, quantify their impact, suggest improvements and build a clear roadmap for loss reduction.
Each client's needs are different, we can adapt our approach to elaborate inventory discrepancy reduction initiatives, as well as devise a loss-prevention framework or deliver overall improvement in warehouse operations and logistics efficiency.
In conclusion
Inventory shrinkage has historically taken a big toll on retail margins. However, simple actions can significantly reduce losses due to shrinkage. Retailers of any size can create clear accountability, break down silos, unify shrinkage classification and effectively measure and manage inventory loss across the value chain.
By adopting new technologies and streamlining processes they can also help prevent errors, fraud and omissions caused by simple human error. A good inventory management system should track the location of all the inventory from point of origin to point of sale – with full traceability of actions.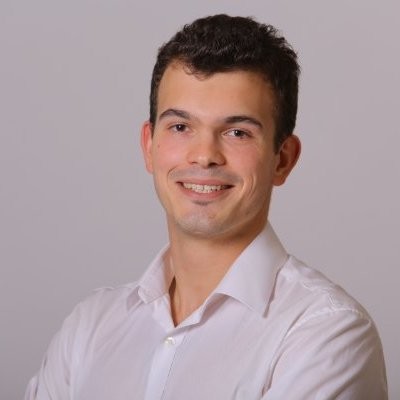 AUTHOR – Andrei Kochkarev, Business Consulting Manager, Change Management Group (CMG)
For help with your inventory management or operational excellence:
References:
[i] NRF's 2022 Retail Security Survey
[ii] Global Retail Theft Barometer