If you think back to January this year, how did you feel about 2020? Excited, maybe? Keen to start the new decade and achieve new goals, both personal and professional? Then March hit and our world was collectively turned upside down. A situation well beyond our control made many of us feel shock, denial, anger and depression – we were going through the first stages of the infamous Change Curve.
First introduced by Elisabeth Kübler-Ross in 1969 as a model to understand and deal with traumatic life events, researchers quickly realised  that this emotional cycle can be applied to any significant change experience. Today, Kübler-Ross's model is widely used to help make sense of and deal with individual and collective responses to change, including within a business context. Many of you will have come across this model in your careers and most of us have experienced the journey ourselves. The key is not to avoid the Change curve, it's to accelerate an individual or team's passage through it via the right support mechanisms. The mark of a true business leader is how successfully they guide their colleagues through this confusing, unsettling and sometimes overwhelming process.
Going back to how we felt at the beginning of March this year, business leaders were faced with the unprecedented task of simultaneously dealing with the personal impacts of the COVID-19 pandemic and shepherding their businesses through arguably the most uncertain economic landscape we have ever experienced. In the UK, to protect an already fragile economy, the Government announced the 'Coronavirus Job Retention Scheme,' commonly referred to simply as 'Furlough.' To encourage employers to keep employees on their payroll despite the downturn in revenue, businesses could claim back 80% of their employees' wages, National Insurance and Pension contributions (to a cap of £2,500 per month).
Much will be written in the future about the impact of this mass unemployment retention scheme, but while we'll have to wait to truly understand the long-range fiscal implications, we can look at how the Change curve has played out and continues to play out across organisations  taking advantage of the Furlough scheme.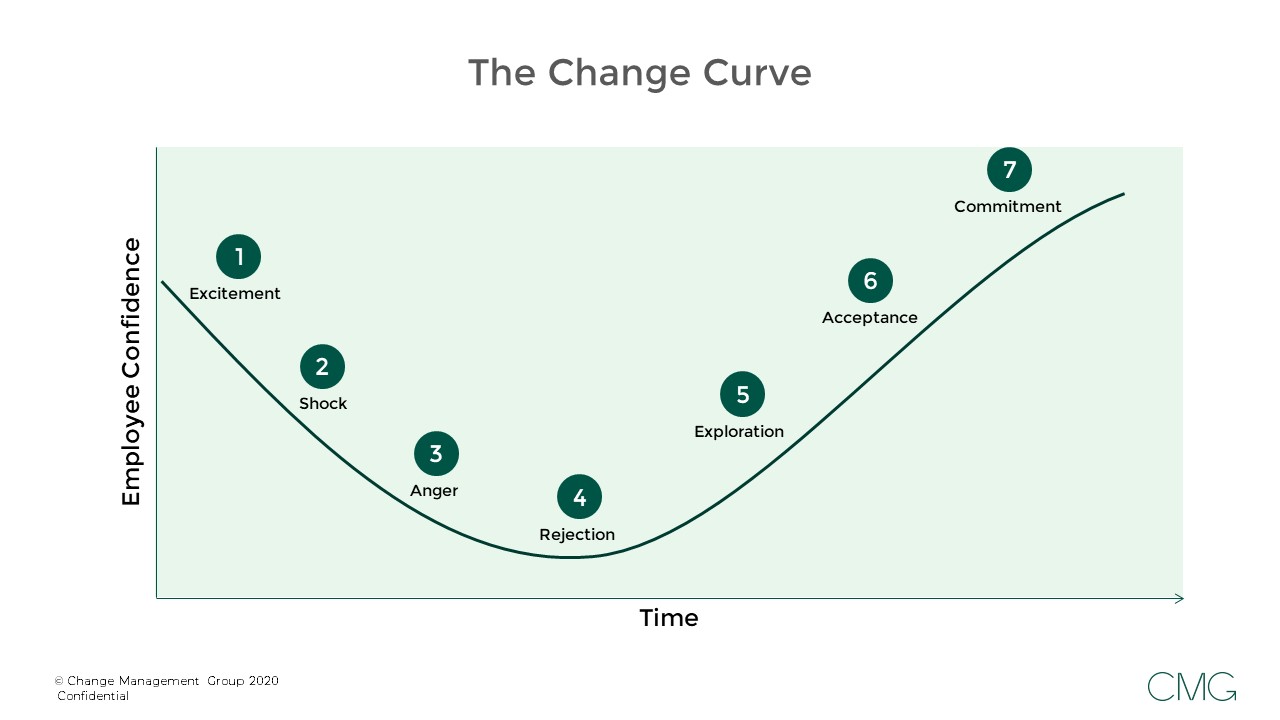 When the scheme was first announced, there was a bubble of excitement – businesses would be saved, pressure taken off leaders to deliver on now unrealistic targets, employees could focus on protecting their loved ones without the distraction of deadlines and meetings. This sudden collective loss of structure, however, meant that for many employees used to the daily commute, office banter and lunch runs to Pret, their worlds were completely topsy-turvy. Some people flew through the change curve – baking banana bread, becoming expert home schoolers, and juggling Zoom calls with friends with dog walking and laundry loads. For some on furlough, the journey to acceptance and innovation was fast.
As the world becomes collectively exhausted by the pandemic and begins the thorny walk through the bramble patch to a return to normality, we may see these rapid-acceptors going through the 'second wave' of the Change cycle – finding it difficult to adjust back to office life (virtual or physical) and a full and demanding work schedule again.
Many people, however, are still in what is affectionately known as 'the valley of despair' – the struggle to accept what has happened and the despair around the uncertain future of their jobs and businesses is very real. Envy and resentment towards those who are not on the furlough scheme builds, and fracture lines in once-collegiate cultures start to undermine company values.
As a leader, one of the most valuable things you can do right now is to spend some time reflecting on where your team is in terms of the Change Curve. What groups have emerged? Which teams are accepting, and why are they accepting? Which teams are stuck in the anxiety, resentment, anger phases? A root-cause analysis can help to determine what is the true driver and can point you to things you can do, within your control, to help your team through this. It could be as simple as making sure the channels of communication are open and transparent – you don't need to host team socials every week, but you may be neglecting to communicate clearly and regularly enough to those sitting at home, working or not, facing an uncertain future. In this unsettling time, no one is expecting you to have all the answers – but more than ever it is critical right now to make people feel heard and valued.
As the furlough scheme reaches its conclusion in the UK, and many other countries begin to adapt back to the 'new normal,' the global business world is about to experience another wave of people change. At CMG we are all about people change – with offices in the UK, UAE and USA, we have a specialist team of change management experts who have deep cultural and behavioural change expertise. If you're worried about getting your team through the Change Curve or just want to chat, please reach out at hello@cmg-change.com .