Amazon's new bookshop in New York has caused ripples throughout the retail world with commentators excitedly declaring that Amazon, having taken over the online world, is now extending its tentacles to the high street. So what is the story? What sort of expertise are they bringing and how is it different from a "normal" bookshop?
The standard bookshop model is a very simple one: the longer they linger, the more likely they are to buy.
No fast lane checkouts and portable POS here; retailers have an interest in keeping customers browsing in their stores for as long as possible, allowing themselves to explore beyond their usual categories to find new areas of interest.
This is the sweet spot where the customer is, in effect, selling to themselves, and retailers are willing to invest in comfy sofas and cheery baristas to keep them in place.
Not everyone is happy to linger, however, and time-strapped customers will inevitably visit with a rough idea of what they're looking for; be it travel, fiction, self-help and so on. Managers categorise their books in traditional categories, customers displaying tunnel vision walk straight past the sofas to what they are looking for, and the retailer loses the browsing opportunity.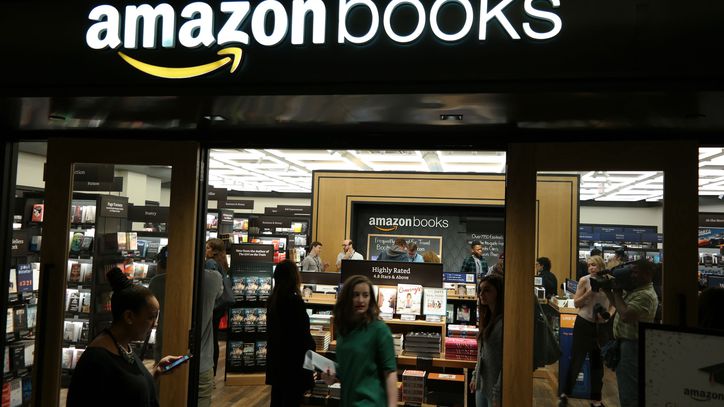 However, Amazon's new bookshop is doing things slightly differently; largely due to the enormous amount of purchasing and behavioural data about their books that they've amassed in their online operations.
They are actively encouraging browsing and discovering new titles, through a combination of data-led inventory curation and innovative merchandising ideas.
Jennifer Cast, VP of Amazon Books, calls it a "mecca for discovery", and there does seem to be an element of this. For instance, the books have their covers, not their spines, facing out, not worrying about space constraints. They only stock books which are rated highly in their online store. And they call out specific titles which sell well in the local area around the store.
These ideas could be implemented by a conventional book shop with an engaged visual merchandiser who has enough time to collect and collate their sales data. However, Amazon is also categorising  books in a manner that is usually only seen online, and which is actually impossible to collect in a bricks and mortar environment.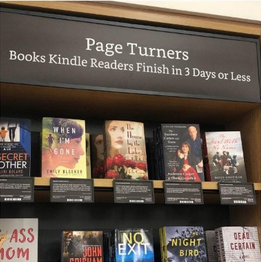 "Page turners – books completed in three days or less" is a good example of that. Amazon is using tracking data generated by thousands of Kindle downloads to pull out the titles which are most quickly read. Without these rich seams of information it would be difficult for a conventional bookshop to know this.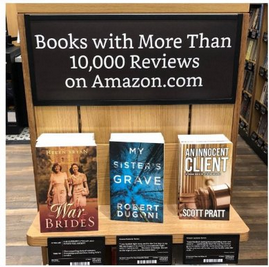 "Books with more than 10,000 reviews on Amazon": quite apart from the enormous FOMO (fear of missing out) which this ingenious way of categorisation  sparks in the soul, it's another example of the vastness of online data neatly transferred to a bricks and mortar operation.
These new ways of presenting books to the reading public are ingenious devices to introduce new books to customers, keeping them browsing. Whilst it's true that this level of data can only be used by Amazon, there are definite learnings here for other bookshops to keep customers engaged, finding new categorisations  to enable them to discover new interests and physically stay in store longer.
Bryony Graham