The retail revolution is turning things upside down.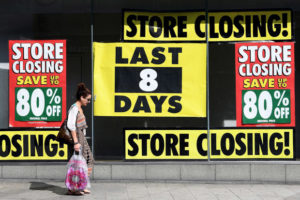 Online brands are launching on the high street… which apparently is in terminal decline.  We're going to be getting our shopping delivered by drones soon.  Our every mood is going to be examined and measured by facial recognition software.  And then there's the rise of robotics – can anyone forget Boston Analytic's robotic dog opening that door?
So why is all this happening now?   Founder of agency 22 and 5 and 'Retail Futurist' Howard Saunders points to the smartphone.  We can immediately access the best in the world through our phone, he says.  Why would we go to shops anymore?  Now we expect shops to come to us.
He makes the point that stores just do what they say – they "store" things for us to buy.  And arranging products on shelves and hoping they inspire us enough to buy them is no longer enough.  Stores are increasingly being left behind by brands who are reaching out and connecting emotionally to us.
These brands have made the effort to understand their core values and identity and have the creativity and imagination to immerse customers in them.  They create worlds and sensations which provoke, entertain and inspire us.
We are social creatures that crave community, human contact and dialogue.  Is it surprising that rows of products sitting in stores are a poor second when there are such absorbing alternatives out there?
—–
In this series we're going to look at sectors and brands which are sparking consumers' imagination by drawing on their history, heritage and vital essence to tell stories and build worlds.
And we're going to start with potentially the most inspiring and exciting sector at the moment – consumer electronics.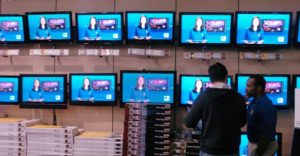 Gadgets and gizmos have the potential to be enormously exhilarating and eagerly awaited; just look at the queues around the block for the latest phone or games console.  But whilst the technology is growing exponentially, visual merchandising is lagging behind; all too often we're presented with rows of products on shelves in brightly lit showrooms.
All is changing though.  Brands are realising that there are new ways to present their products to their best advantage.
Choosing your latest sleek gadget can certainly be done logically: considering their specs, their price, their reviews.  But amidst so much competition, what brands increasingly want to tap into is something more emotive; they want to generate desire, bypassing customer logic to create an emotional connection with customers.  As in "I don't need it but I absolutely have to have it!"
———
The first brand which we'll consider is US-based company Sonos.  The California-based manufacturer of wireless sound systems, founded in 2002, aims to transform how we digitally listen to music at home.
Their system connects a main speaker to your home network and then allows you to add up to 32 speakers which can be dotted around the house using a secure network.
So it's a simple idea, albeit slickly executed.  But what Sonos is particularly good at is elevating the concept, showing how a bunch of speakers will actually improve your quality of life, by enriching the modern music experience.
And, crucially, Sonos have identified that their product needs demonstrating in order to sell.  Put baldly, it's tough to make anyone to fall in love with a collection of black boxes.
So we need to be shown how it works at home.  And not any home, of course, but a beautifully designed dream home, built inside their first European concept store in Covent Garden.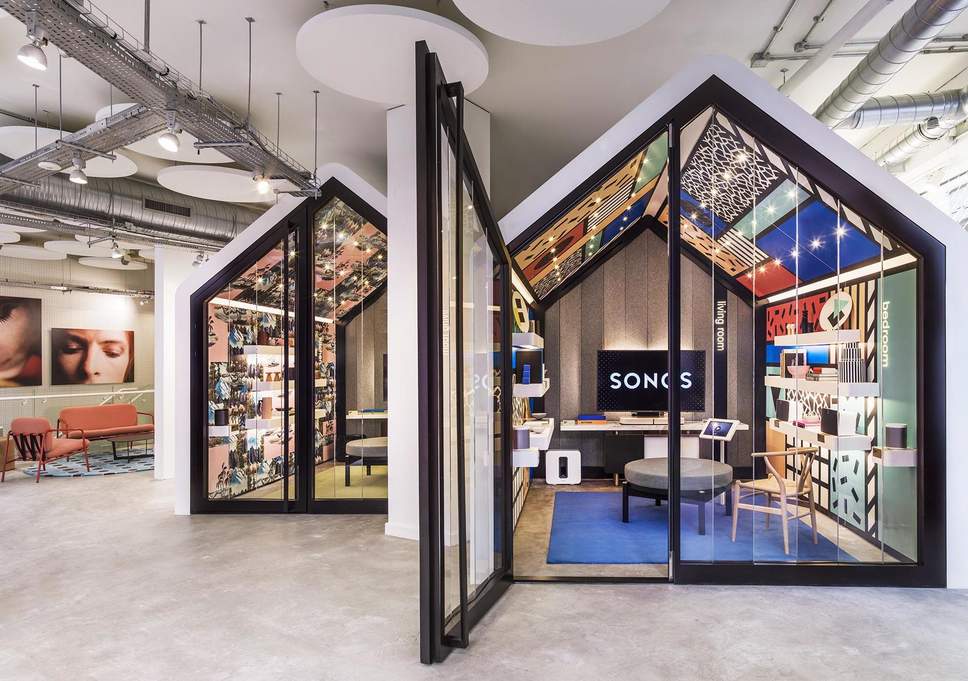 Enter the store and you'll find a series of glass mini-apartments which replicate listening to music at home.  The acoustically tuned, house-shaped structures are designed to simulate a 'real multi-room home-listening space'.
With music playing throughout they have taken the concept of a store and expanded it into a public retail, exhibition, screening and listening space.
Presenting their system in a beautiful, aspirational house environment sets customers' imaginations free to imagine exactly how it would fit into their life, and how this would make them feel.  It's a neat example of a tech brand using full-on, well thought out visual merchandising to ignite that spark of desire.
——
Now let's head to tech conglomerate Samsung, which for years has gone head-to-head with Apple for the title of World's Favourite Smartphone Manufacturer.
In the UK, Apple has a 48% market share, with Samsung next largest at 35% (and these really are the only two players – the next largest is Sony Xperia on 4%).
They might be the market leaders but they are very different beasts.  Apple's cool 'Silicon Valley vibe' is packed full of emotion, passion, dreams for a better future.  How they can make improve everyone's lives.
By comparison Samsung, the family-owned South Korean corporation, can look a little staid by comparison; a respectable manufacturer but perhaps not very exciting.  And this might have been at the front of their mind when they launched Samsung 837 – their new "living lab and digital playground"
It's a three story venue right in the centre of the Meatpacking district in New York and is described as a first-of-its kind cultural destination, digital playground and 'creative expression of their brand'.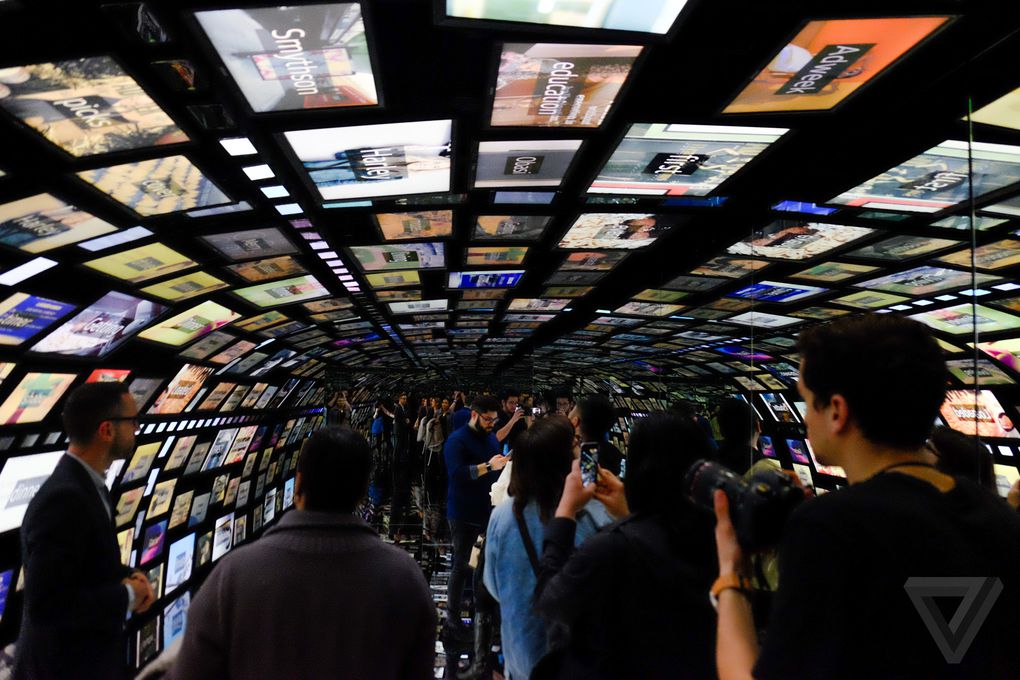 The state-of-the-art building features numerous interactive installations and a larger-than-life, three-story screen.  It's home to live music performances, exclusive screenings, and radio recordings.
It's described as a cultural centre, tapping into art, music and entertainment and is a highly ambitious way to show that Samsung is more than just a mobile phone brand.  But in addition to showcasing their products and services, they also describe the centre as a 'convergence of humanity and technology that underscores how can make your life better".   So here is another tech brand looking to move and inspire their customers.
—-
Consumer electronic brands are increasingly differentiating themselves in a tough marketplace by unleashing creativity and imagination to immerse customers in their worlds.
Sonos' dream house and Samsung's creativity hub are a world away from the traditional electronics merchandising and it will be interesting to see who will be next.
Bryony Graham