Can air freshener and mattress brands ever be exciting?  Perhaps they can!
Welcome to "Building Belonging", a new series which explores how brands are delving deep into their core values and heritage to stimulate and inspire their customers.  Retail Futurist Howard Saunders, Founder of agency 22 and 5, recently explained just how certain forward-looking brands are working to reach out and connect emotionally to their customers.
So far we've seen how consumer electronics and alcohol brands are creating experiences to provoke, entertain and inspire us.  This week we're looking at two brands in a sector which might seem a little less exciting: household products.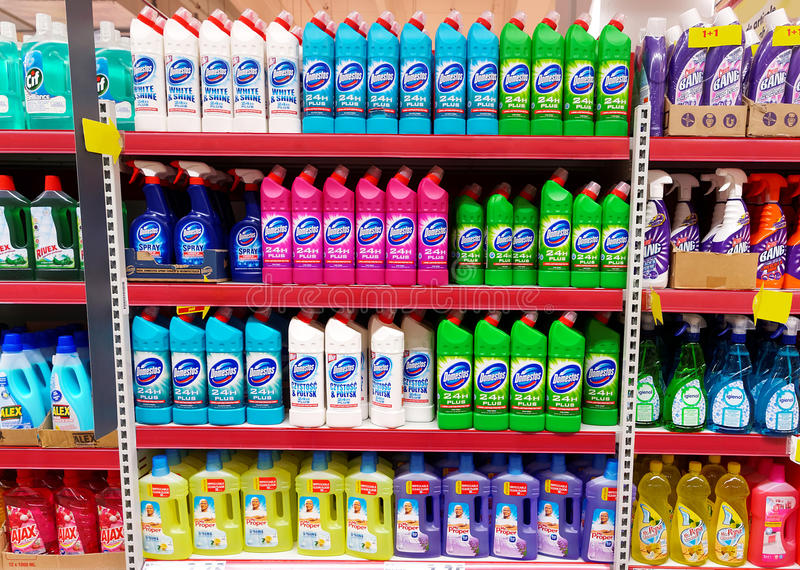 On the face of it, it may appear to be a challenge for this sector to make an emotional connection of any kind with their customers.  However, some brands are showing that it is possible to use imagination to inspire and excite.
In fact, you could argue that the household products sector is the ultimate in immersive products; they surround us in our homes.  However, familiarity breeds contempt, as it were; they are present with such regularity that we can cease to even notice them.
This is a huge opportunity, practically a blank canvas for brands to bring themselves to life in order to make us notice (and appreciate!) them all over again.
Glade, the S.C Johnson company and air freshener experts, rose to the challenge.
—–
Air fresheners are generally seen as the poor relation of the fragrance family, the flipside to perfume…. they're cheap, found in the laundry aisle and don't have much of a reputation for subtlety.  It's fair to say they are functional rather than inspirational.
So, Glade decided to pique the imagination by constructing an enigmatic installation in which they aim to bring to life feelings inspired by scent.
They created what they called a 'Scent Lab and Feelings Lounge', a rather mysterious 'multi-sensory, immersive experience'.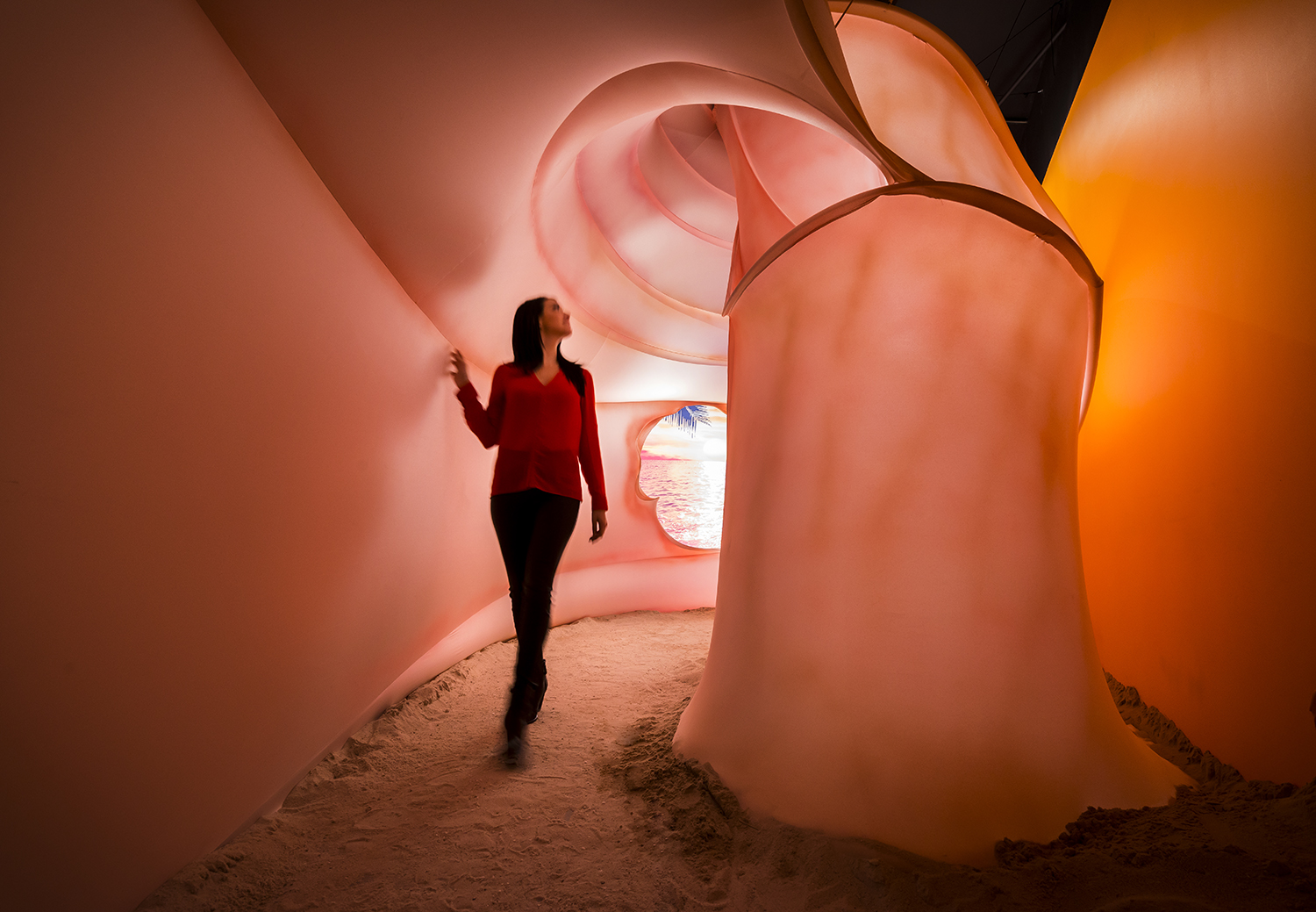 Visitors to the installation are invited to interpret the brand for themselves and consider how certain scents make them feel.  So, one area, representing their new fragrance 'Relaxation', is in the shape of a massive conch shell.  Visitors walk on a sandy surface, feel a warm breeze, and see a soft orange light, whilst ocean sounds play in the distance.
In the same way as the DogHouse Hotel, the project by anarchic brewers BrewDog, Glade are inviting people to be physically immersed into their brand to feel a more powerful connection.
Hats off to Glade for attempting to capture the feeling of fragrance and make it more tangible, more conscious.  By doing so they are also elevating the mundane into something desirable and precious.
——-
Another household product which has a subliminal effect on us is our mattress.  We wouldn't notice a pleasant background scent in the way we wouldn't notice an average night's sleep; however, we'd immediately spot a bad smell and we definitely notice the detrimental effects of a bad night's sleep.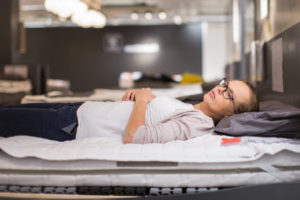 Mattress shopping is not a regular event, which is just as well as it tends to be a necessary evil: extremely expensive and rather dismal.  We've all laid on showroom beds with sweaty plastic covers and no pillows in a depressing attempt to recreate bedtime.
In fact Casper Mattress CEO Philip Krim said last year that "buying a mattress in a mattress store ranks as one of the worst consumer experiences still in existence".
Casper is a US-based start-up which specialises – yes – in mattresses.  They were initially solely online, then sold their mattresses through Target stores in the US, before opening their first permanent store in New York earlier this year.
They've turned the traditional ordeal of mattress shopping on its head by creating a bedroom environment which is much closer to what we have at home.  Their brand is fun, disruptive; they're aiming to be the Disneyland of mattress shopping.
There's a chronic need for rest and sleep felt by most of the adult population in the developed world.  We're desperate for a good night's sleep, but how do you inspire customers, tell stories and build worlds around such an intangible concept?
Casper has tried with their new Sleep Shop, which is very different from a standard bed showroom.  It's been specifically designed to recreate the cocooning world of a cosy bedroom and a good night's sleep.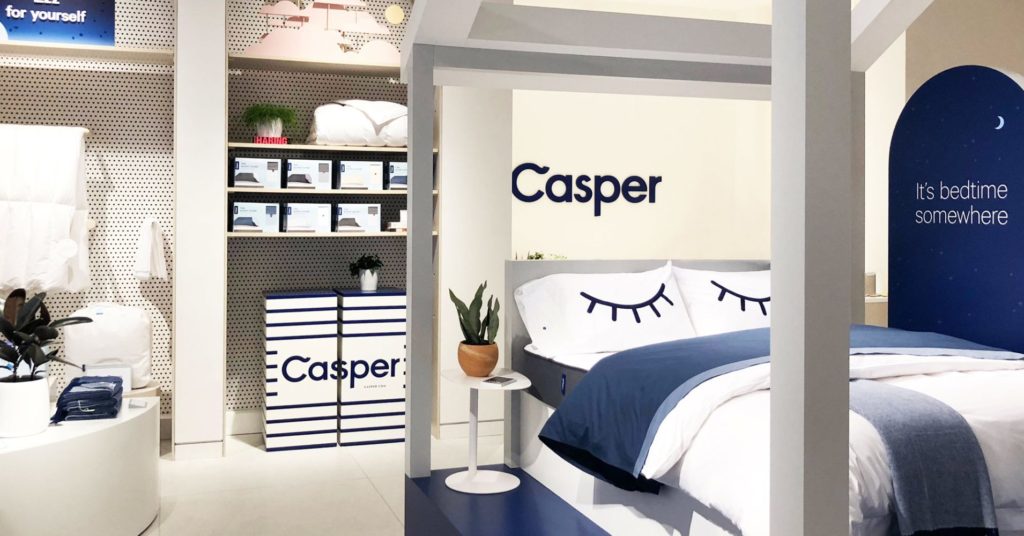 Visitors will discover a series of decorated mini-bedrooms, complete with fully made beds and pillows (no more sweaty plastic covers!) where they can check out the beds for themselves.  Each room is individually designed with themes such as solar system glowing wallpaper and counting sheep murals, which change every few months.
The company plans that the store design will evolve over time, depending on how customers react to it.  'There used to be this idea that a retailer would spend thousands of dollars on a flagship store and then it is done forever.  Today you're going to see a lot of continuous iteration cycles', Co-founder and COO Neil Parikh said.
As is fitting in a store totally focussed  on sleep, it will also host sleep- and wellness-related events throughout the year.
Casper, in their own quiet way, are transforming the world of mattress retailing.  They've thought carefully about how they want their customers to feel when they're buying a mattress and then have worked backwards from this outcome.  Their Sleep Shop is entirely designed around the concept of a good night's sleep and it will be interesting to see whether bringing customers into this world is going to reap dividends to their bottom line.
—
Household products can often struggle to make a connection with their customers.  They're a need, rather than a want; they are not presented as inspiring products and as such customers don't find them inspiring.
However, some brands are thinking about how they want customers to feel when they use them and this thoughtfulness, and desire to connect emotionally with users, means that change is slowly happening in this sector.
Bryony Graham